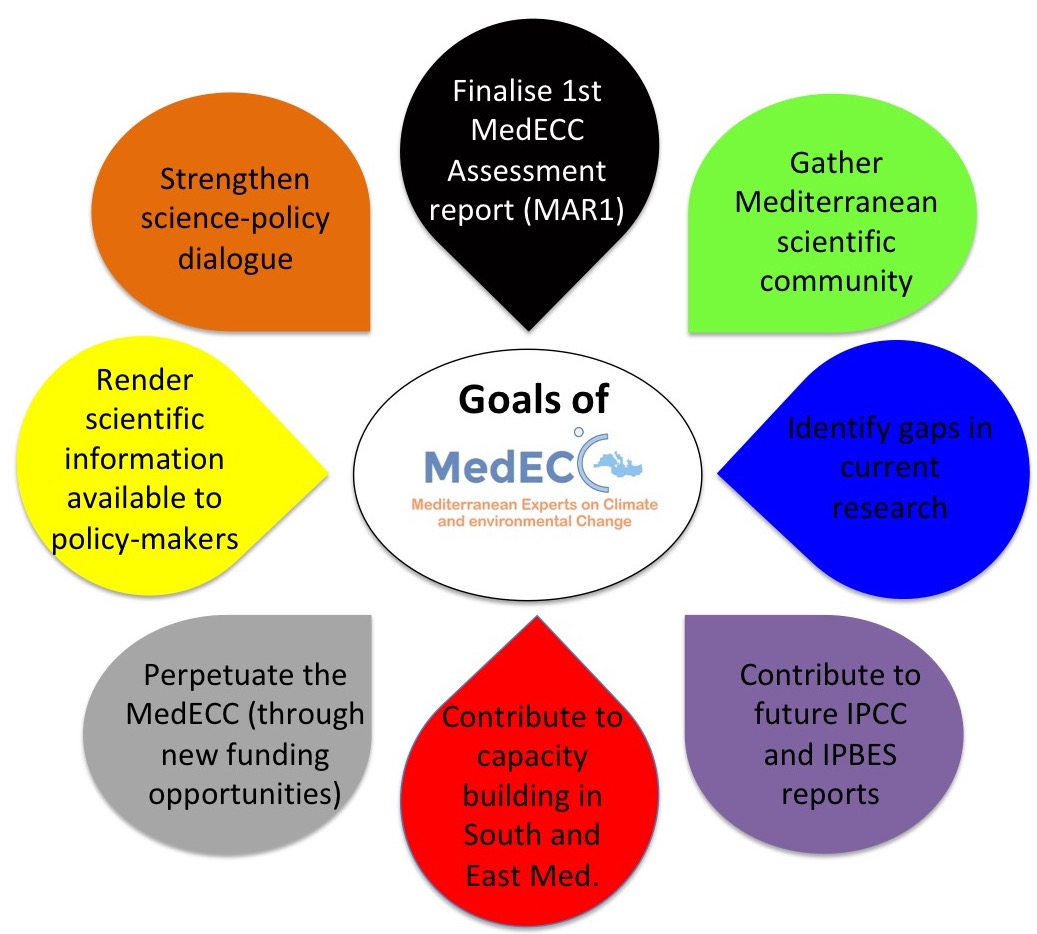 An expert network to support decision-making
MedECC is a network of scientists working towards a regional science-policy interface for climatic and other environmental changes across the Mediterranean. MedECC prepares an improved assessments and a comprehensive synthesis of global change knowledge in the Mediterranean region. This initiative meets a number of existing intentions by important stakeholders, such as the Mediterranean Strategy for Sustainable Development (MSSD 2016-2025), the Regional Climate Change Adaptation Framework for the Mediterranean Marine and Coastal Areas (UNEP/MAP), as well as the proposal included in the 'Agenda of Positive Solutions' approved at MEDCOP21.
MedECC covers all major geographical sub-regions of the Mediterranean area, defined as the ensemble of countries bordering the Mediterranean Sea, including Jordan and Portugal (the Mediterranean Sea, their land and sea territories).
Its thematic scope includes all aspects of climate change and biodiversity conservation, embracing the domains of the IPCC and also IPBES (Intergovernmental Platform on Biodiversity and Ecosystem Services). These include the physical and chemical characteristics of the atmosphere and the ocean, all aspects of natural and human systems potentially impacted by the changing environment, and the economic and social solutions in the form of adaptation and mitigation.
The work is fully oriented towards the highest possible scientific standards, with full participation of experts from all involved regions and required scientific disciplines. Appropriate interaction with public and private decision-makers and stakeholders will be developed, through a formally established science-policy interface.
MedECC has set itself the following specific goals:
To gather the scientific community working on climate change and its impacts in the whole Mediterranean basin. This includes building a bridge between existing research structures and programs and facilitating data-sharing through existing or new platforms.
To update and consolidate the best scientific knowledge about climate and environmental change in the Mediterranean basin and render it accessible to policy-makers, key stakeholders and citizens.
To contribute to future IPCC, IPBES or related assessments in the Mediterranean basin.
To bridge the gap between research and decision-making, contributing to the improvement of policies at national, regional, and local level by providing consolidated scientific assessments on particular issues and by responding to requests by decision-makers.
To identify gaps in the current research on climate change and its impacts in the Mediterranean
and interact with funding agencies for the development of new research programs to fill these gaps.
To help building the capacity of scientists from Southern and Eastern Mediterranean Countries (SEMCs) at the international level and standards; encouraging training, research and development efforts in these countries.
Download the flyer (November 2018)
Download the initial concept note of MedECC (July 2016)