Science Diplomacy is a new discipline that combines science, technology and international relations to meet global agendas, increase prosperity and promote understanding between countries, regions and societies. The Ecological and Forestry Applications Research Centre, Spain (CREAF)* and the Union for the Mediterranean publish the take away ideas report "Science and Innovation Diplomacy in the Mediterranean" following their workshop "Increasing awareness of science diplomacy in the Mediterranean" held in October 2021. The topics and initiatives that were discussed at the workshop are described in full detail, including Challenges and barriers, and Recommendations and proposed actions.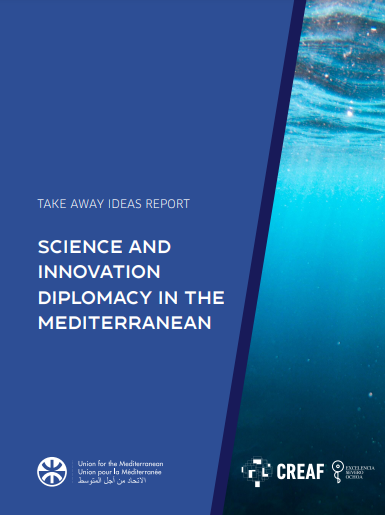 In the Mediterranean, scientific and cultural diplomacy are two sides of the same coin that must go hand in hand given the shared Mediterranean values and identity. Scientific cooperation can yield broader benefits: building trust, enhancing capacities and skills, sustainable development, gender equality and peace.

MARGA GUAL SOLER, expert advisor in Scientific Diplomacy at CREAF
Read "Science bonds the Mediterranean to drive climate action" article on the CREAF blog.
*CREAF is a public research center in terrestrial ecology, global change and earth observation aiming to contribute to the knowledge, conservation and management of natural environment and territory, and to the adaptation to environmental changes at a local, regional and global level, encouraging the link between the academic world, administrations and society, and setting guidelines in its scopes of action. It is located in Barcelona (Spain).