In the current times of globalization and homogenization of landscapes and taste, still many rural places maintain a distinctive character and produce foods that evoke traditions and a sense of quality of life. The landscapes of origin are often affected by dynamics that threaten their persistence — but a growing awareness among producers and consumers creates market niches for traditional food products that contribute to their preservation. In a recent study, we aimed to find out more about these so-called "landscape products". María García-Martín in the blog article associated with the publication of this study "Connecting with Unique Mediterranean Landscapes through Food Products".
Abstract
Context
Global dynamics affect the sustainability of agricultural landscapes, but these cross-scale connections are understudied. Therefore, we combine food systems and landscape ecology, focusing on food products that provide a linkage between global consumers and landscapes of production (e.g., Douro Valley wine) which we call landscape products.
Objective
The aim of this study is to characterise Mediterranean landscape products based on experts' perceptions by analysing their qualities, farming practices, and value chains, and to identify their ecological, cultural, and socio-economic outcomes in the landscapes of production.
Methods
Experts with specific knowledge on a landscape product were surveyed by email and their answers analysed using descriptive and ordination statistics. Fifty-four landscape products were characterised.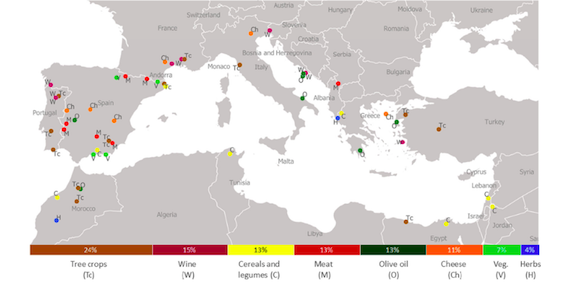 Results
Based on the experts' perceptions, landscape products are high quality products, mainly using traditional knowledge and low intensity farming. They support biocultural diversity in the landscapes of production, but their positive socio-economic outcomes remain limited, with problems of inequity and lack of empowerment among producers and a tendency towards intensification or abandonment of the farming practices. We distinguished three types of products based on their localness and how their qualities were shared with consumers. Local products performed better in the ecological and cultural outcomes and products under certification in the economic. Labelling mechanisms and better organisation of producers could enhance these products and their positive outcomes.
Conclusions
Combining landscape ecology and food systems research allowed us better understand the outcomes of landscape products in the landscapes of production and suggest pathways for fostering landscape sustainability.
Source
Scientific article: García-Martín, M., Torralba, M., Quintas-Soriano, C., Kahl, J., & Plieninger, T. (2020). Linking food systems and landscape sustainability in the Mediterranean region. Landscape Ecology, 1-17.
Article "Connecting with Unique Mediterranean Landscapes through Food Products" publisehd on the blog "People • Nature • Landscapes: Research on Social-Ecological Interactions" that reports stories from the Social-Ecological Interactions Groupe, based at the University of Gôttingen and the University of Kassel