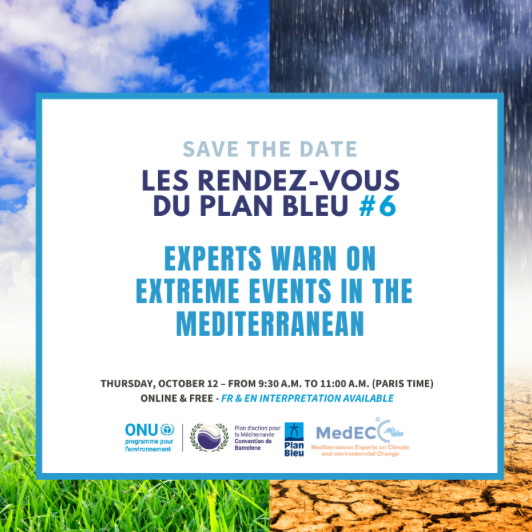 MedECC is joining forces with Plan Bleu to analyze the risks linked to climate change, and recent extreme events occurring in the Mediterranean. The webinar will be held on Thursday October 12, 2023, online, from 9:30 a.m. to 11:00 a.m. (UTC/GMT +2 hours). There will be an interpretation in French and English available.
To register: click here.
The Plan Bleu that wishes to go further in raising awareness for the protection of the Mediterranean has come up with "Les rendez-vous du Plan Bleu": an online meeting hosted by Mediterranean environmental experts to present and decode a current topic. The opportunity for the public to come and discuss with specialists on the subject!he opportunity for the public to come and discuss with specialists on the subject!
Detailed program:
Introduced by Plan Bleu and presented by MedECC experts:
9:35 a.m.: STATE OF CLIMATE AND ENVIRONMENTAL CHANGE IN THE MEDITERRANEAN by Joël Guiot (CNRS Research Director Emeritus, CEREGE, France)
09:45 a.m.: DO THIS SUMMER'S EXTREME EVENTS HAVE A LINK TO CLIMATE CHANGE? by María Carmen Llasat (Professor at the University of Barcelona, ​​Spain)
10:00 a.m.: MEDITERRANEAN CITIES FACING CLIMATE CHANGE by Arnau Queralt Bassa (Director of the Consultative Council for Sustainable Development of Catalonia (CADS) of the Government of Catalonia, Spain)
10:15 a.m.: SOCIETAL IMPACTS AND THE NEED FOR STRONGER AND EQUITABLE ADAPTATION POLICIES by Roula Majdalani (Climate Change Advisor in the Office of the Director General of ICARDA and the Regional Director of CWANA, Lebanon)
10:30 a.m.: QUESTIONS / ANSWERS WITH THE AUDIENCE
11:00 a.m.: CONCLUSION by Plan Bleu
//FR
Les Rendez-vous du Plan Bleu #6 : Les experts alertent sur les évènements extrêmes en Méditerranée
Le Plan Bleu souhaite aller plus loin dans la sensibilisation pour la sauvegarde de la Méditerranée. Nous avons imaginé « Les rendez-vous du Plan Bleu » : une rencontre en ligne animée par les experts de l'environnement méditerranéen pour présenter et déchiffrer un sujet d'actualité. Ce webinaire a lieu le jeudi 12 octobre 2023, de 9h30 à 11h00. Pour cette sixième édition, le Plan Bleu s'associe avec le groupe d'experts méditerranéens sur les changements climatique et environnementaux en région méditerranéenne (MedECC) pour analyser les risques liés au changement climatique, et les récents évènements extrêmes survenus en Méditerranée. L'occasion pour le public de venir échanger avec les spécialistes du sujet.
Programme détaillé
Introduit par le Plan Bleu et présenté par les experts du MedECC :
09H35 : ETAT DES LIEUX DES CHANGEMENTS CLIMATIQUES ET ENVIRONNEMENTAUX EN MÉDITERRANÉE par Joël Guiot (Directeur de Recherche CNRS émérite, CEREGE, France)
09h45 : LES ÉVÉNEMENTS EXTRÊMES DE CET ÉTÉ ONT-ILS UN LIEN AVEC LE CHANGEMENT CLIMATIQUE ? par María Carmen Llasat (Professeur à l'Université de Barcelona, Espagne)
10h00 : LES VILLES MÉDITERRANÉENNES FACE AU CHANGEMENT CLIMATIQUE par Arnau Queralt Bassa (Directeur du Conseil Consultatif pour le Développement Durable de Catalogne (CADS) du Gouvernement de Catalogne, Espagne)
10H15 : IMPACTS SOCIÉTAUX ET NÉCESSITÉ DE POLITIQUES D'ADAPTATION PLUS FORTES ET ÉQUITABLES par Roula Majdalani (Conseillère en changement climatique au bureau du directeur général de l'ICARDA et du directeur régional de CWANA, Liban)
10H30 : QUESTIONS / REPONSES AVEC L'AUDIENCE
11H00 : CONCLUSION par la Plan Bleu