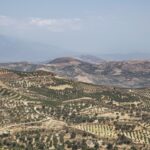 A Mediterranean Research Project
What effects do land-use changes – from urbanization to increased global markets for commodities, intensified farmingpractices and even the abandonment of farmland – have on food self-sufficiency locally and on the scale of the Mediterranean Basin?
The DIVERCROP project, ran by an international team of nine institutions in seven countries (2017-2021) explored the interactions between food systems and land-use changes. The main objectives were to highlights interactions between current dynamics of the Mediterranean agricultural practices, species diversity and local food systems at multiple spatial scales.
Film "Farming and Food in the Mediterranean"
After publishing their findings in several academic journals, DIVERCROP has produced a short video that illustrates the variety of situations studied: