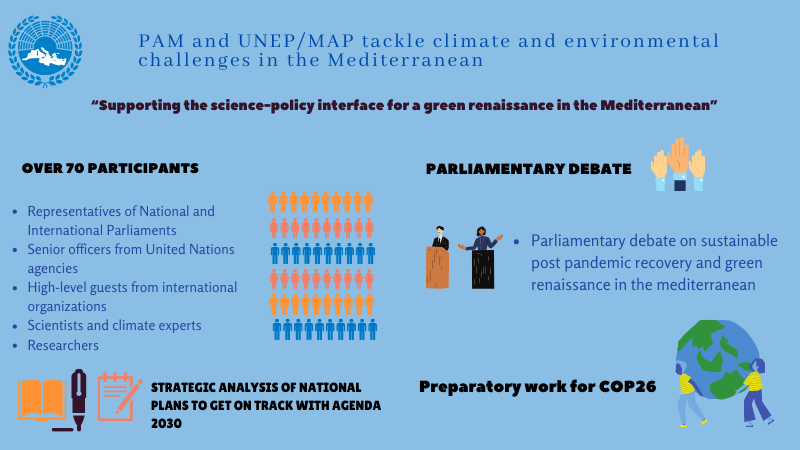 On 14 December 2020, a mere 48 hours after the Climate Ambition Summit, the Parliamentary Assembly of the Mediterranean (PAM) organized an online encounter with its members and with lawmakers from across the region. Titled "supporting the science-policy interface for a green renaissance in the Mediterranean", the meeting provided participating parliamentarians with insights into climate and environmental change and interactions with development in the basin. The UNEP/MAP-Barcelona Convention Secretariat supported the event as part of efforts to bolster science-policy interface in line with the Mediterranean Strategy for Sustainable Development.
Ambassador Sergio Piazzi, PAM Secretary General, welcomed the cooperation with the UNEP/MAP-Barcelona Convention Secretariat on strengthening the Science-Policy Interface which Mr. Alain Perea, the PAM Vice-President and Rapporteur on the Environment, described as "essential to deflect current trajectories" of environmental degradation in the Mediterranean.
The findings of two recently released assessment reports prepared in the context of the Barcelona Convention — the "State of the Environment and Development in the Mediterranean (SoED)" and the "First Mediterranean Assessment Report (MAR1)", by Mr Francois Guerquin (Director, Plan Bleu) and Dr Joel Guiot (Coordinator, MedECC), respectively —were presented and discussed with the audience.
Mr. Daniele Violetti (Director of Means of Implementation, UNFCCC) presented the outcomes of the Climate Ambition Summit.The United Nations, United Kingdom and France co-hosted the summit, in partnership with Chile and Italy, which currently assumes the presidency of the Barcelona Convention.
Marking five years since the adoption of the Paris Agreement and happening less than a year before the UN Climate Change Conference of the Parties (COP26), the summit saw renewed commitment in reducing emissions with many countries coming forward with strengthened national climate plans (NDCs), including commitments covering some of the world's biggest emitters on display.
NDCs under the UNFCCC constitute, alongside stimulus packages and other investment plans launched by Mediterranean countries in the context of recovery from the COVID-19 pandemic, provide an opportunity to invest into a more sustainable and resilient future. For such investments to achieve the outcome sought, they need to be grounded in a solid evidence base that only a robust Science-Policy Interface can deliver.
"Achieving a green renaissance begins with a strong foundational network of policymakers and scientists working together to identify measures that are both impactful and feasible. The Parliamentary Assembly of the Mediterranean is committed to the development of these synergies, providing platforms for mutual engagement between parliamentarians and strategic partners, including the organizations that supported this event," said Pedro Roque, Vice-President of PAM and President of the Second Standing Committee: Economic, Social and Environmental Cooperation.
The meeting agreed that pro-sustainability, science-based policy to recover from COVID-19 can bring about a green renaissance in the Mediterranean.