Presentation
The global ocean is warming, acidifying and losing oxygen, and sea level is rising. This calls for a dramatic scaling up of efforts towards ambitious mitigation and adaptation. The ocean offers opportunities to reduce the causes and consequences of climate change, globally and locally. This Policy Brief assesses 18 ocean-based measures to support climate policies and the revision of NDCs in the areas of mitigation and adaptation.
Key Messages
The ocean is a key element of our life support system and provides many services. Ocean-based actions can maintain or increase those services despite climate change.
 
Ocean-related measures cover both mitigation and adaptation, and range across four clusters (Decisive, Low Regret, Unproven, Risky) that offer a policy-relevant framing for decision and action.
 
Advancing knowledge on ocean-based solutions is timely ahead of COP25 (known as the "Blue COP" because of its ocean focus); COP26, by which Parties are due to revise and enhance the ambition of their NDCs; and the Global Stocktake in 2023.
 
The next iteration towards more ambitious NDCs should scale up ocean-based climate action by prioritising Decisive (e.g. Marine renewable energy) and Low Regret (e.g. Conservation and Restoration and enhancement of coastal vegetation) measures, improving knowledge on the Unproven measures, and very cautiously weighing the Risky ones.
 
Decisive and Low Regret measures are both key priorities for action because (1) the full implementation of Decisive measures will not completely eliminate coastal risks and (2) the effectiveness of Low Regret measures, especially nature-based solutions, depends on the global warming level.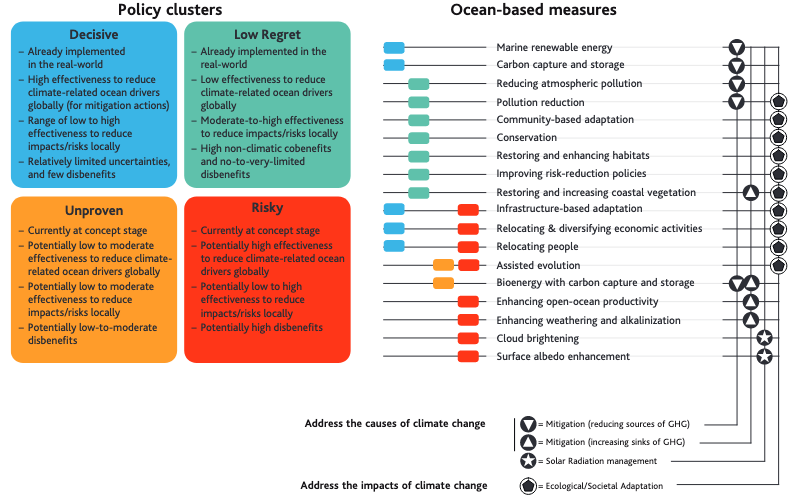 Gattuso, J.-P., Magnan A.K., Gallo N.D., Herr D., Rochette J., Vallejo L, Williamson P. (2019) Opportunities for increasing ocean action in climate strategies. IDDRI, Policy Brief N°02/19. Download the publication