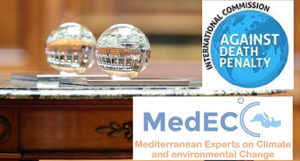 On the 13 November 2020 the jury of the North-South Prize of the Council of Europe decided to award the 2020 Prize to the Mediterranean Experts on Climate and Environmental Change (MedECC) network and to the International Commission against the Death Penalty (ICDP). With this decision, the Jury of the North-South Prize of the Council of Europe wishes to single out two universal causes that are inextricably linked to the principles of human rights, democracy and the Rule of Law, which constitute the main values of the Council of Europe. They also highlight the importance of partnership and cooperation in achieving common global challenges.
The Jury recognized the work of the network of Mediterranean Experts on Climate and Environmental Change (MedECC) composed by more than six hundred scientists from 35 states from the Mediterranean and Europe. The MedECC network – that elaborated the first-ever scientific assessment on climate and environmental change impact in the Mediterranean Basin – constitutes both, a leading example of the potential of collaboration between states and societies to face the challenges of climate change and environmental sustainability, as well as response to the need of scientific and expert cooperation to produce knowledge-based analysis as a sound basis for policy planning. Its work contributes to the promotion of the 1.5 Global Goal of the Paris Agreement in the region. The network also constitutes a concrete example of the vision of the Mediterranean Sea as a shared space of peace, development and human rights, which led to the creation, twenty-five years ago, of the Barcelona Process.
MedECC consists of the following individuals: the MedECC Coordinators, the MedECC Science Officer, all MedECC Lead Authors, and the members of the Steering Committee.
About the North-South Prize
The North-South Prize of the Council of Europe is awarded each year since 1995 to two nominees, one from the North and the other from the South who have stood out for their exceptional commitment to promoting North-South solidarity. The candidates, preferably a man and a woman, must have distinguished themselves in the areas of protection of human rights, defence of pluralist democracy, public awareness raising on issues of global interdependence and solidarity. Despite the variety of nationalities and fields of action of those that have received the Prize since its creation, they all have in common a strong commitment to the promotion of North-South partnership.
The list of previous laureates includes personalities such as Kofi Annan, Simone Veil, His Highness the Aga Khan, Roula Dashti, Souhayr Belhassen, Her Majesty Queen Rania of Jordan, Bob Geldof, Emma Bonino, Danielle Mitterrand, among many others.