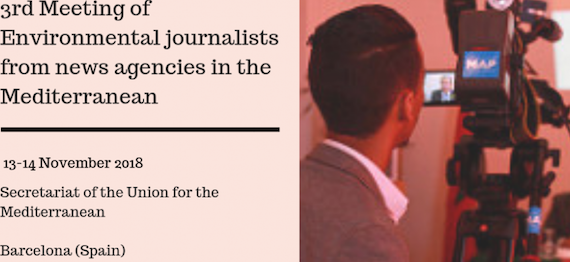 The MedECC Coordinator, Wolfgang Cramer (IMBE, CNRS, FRANCE), presented the science update on energy resources in the Mediterranean (past trends, current situations, vulnerabilities and risks) during the 3rd meeting of environmental journalists from news agencies in the Mediterranean, which took place at the Secretariat of the Union for the Mediterranean in Barcelona (Spain) on 13-14 November 2018. The meeting was organized by the International Union for Conservation of Nature (IUCN) Centre of Mediterranean Cooperation in collaboration with Union for the Mediterranean (UfM) to promote a Mediterranean network of journalists and media corporations specialized in environmental issues with a specific focus on circular economy, plastic pollution and energy efficiency and transition.
Journalists had the opportunity to analyze and discuss environmental challenges  and address invited experts in the round tables to continue open discussions on the main topics as well as the opportunity to engage their peers about how the role of environmental and scientific media in fostering public awareness to promote ecological transition in the Mediterranean region.
The meeting was organized with the support of AMAN, the Alliance of Mediterranean News Agencies as well as the collaboration with EFE News Agency.