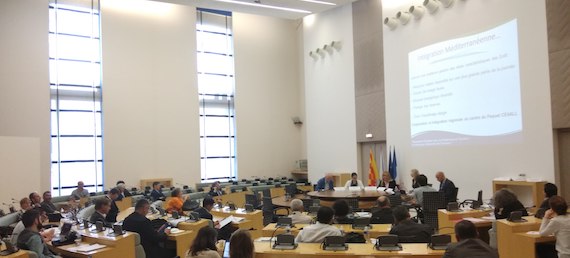 On May 15, 2018 MedECC has been presented during the workshop "Climate Change in the Mediterranean in Transition…" (in French "Changement Climatique dans une Méditerranée en Transition : Un moteur pour l'Attractivité des Territoires ") in Marseille (France), organized by the Institute of the Mediterranean (Institut de la Méditérranée) and the Departmental Council of Bouches-du-Rhône, in partnership with FEMISE (Euro-Mediterranean Forum of Institutes of Economic Sciences) and ENERGIES 2050.
Among participants, political actors were present, as well as NGOs, associations, public organisations and scientists. While considering the recent and current economic situation, the objectives of the workshop was to highlight the development opportunities to be seized. It illustrated the momentum created by local actors and makes a positive contribution to debates on climate issues in the Mediterranean in the light of current realities and challenges.
Several institutions collaborating with and supporting MedECC were present: Plan Bleu, ADEME (French Environment and Energy Management Agency) and GREC-PACA.
Download the program (in French)
Download MedECC presentation