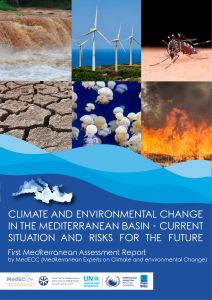 Climate and Environmental Change in the Mediterranean Basin
Current Situation and Risks for the Future
1st Mediterranean Assessment Report is available now (click here)
The First Mediterranean Assessment Report (MAR1) prepared by the independent network of Mediterranean Experts on Climate and environmental Change (MedECC) founded in 2015, is now published. MAR1 assesses the best available scientific knowledge on climate and environmental change and associated risks in the Mediterranean Basin in order to render it accessible to policymakers, stakeholders and citizens. The report includes a Summary for Policymakers (SPM), which comprises the key messages of the MAR1. The report has been written by 190 scientists from 25 countries, all contributing in individual capacity and without financial compensation. The UNEP/MAP – Barcelona Convention Secretariat, through its Plan Bleu Regional Activity Center, and the Secretariat of the Union for the Mediterranean work in partnership to support MedECC, and to contribute to establish a sound and transparent scientific assessment process.
New MedECC infographic is also available here.
Η Σύνοψη για τους Υπεύθυνους Χάραξης Πολιτικής της Πρώτης Μεσογειακής Έκθεσης Αξιολόγησης (MAR1) διατίθεται τώρα στα Ελληνικά. Η σύνοψη περιλαμβάνει τα βασικά μηνύματα της έκθεσης, σχετικά με τις κλιματικές και περιβαλλοντικές αλλαγές στη λεκάνη της Μεσογείου, την τρέχουοσα κατάσταση και τους κινδύνους για το μέλλον. Θερμές ευχαριστίες από το δίκτυο MedECC στους εθελοντές και εθελόντριες επιστήμονες και συναδέλφους, από την Ελλάδα και την Κύπρο, για τη μετάφραση του εγγράφου.
The 2020 North-South Prize of the Council of Europe was awarded to the MedECC on 9 December 2021 in Lisbon (read more). 
From science to policy-making
The network of Mediterranean Experts on Climate and Environmental Change (MedECC) has been created in 2015. MedECC is an open and independent international scientific expert network acting as a mechanism for decision-makers and the general public on the basis of available scientific information and on-going research. The construction of this network responds to several intentions of regional institutions, such as the UN Environment/MAP through the MSSD 2016-2025 and the Regional Framework for Climate Change Adaptation in the Mediterranean, and the Expert Group on Climate Change of the Union for the Mediterranean (UfM CCEG). MedECC includes more than 600 scientists from 35 countries.