The side event dedicated to the MedECC was held on 10 October on in the margins of the 4th Union for the Mediterranean (UfM) Regional Forum.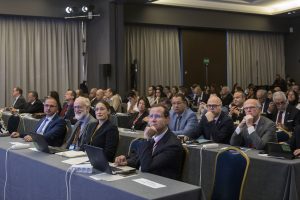 During this side-event, the current state of play and risks associated with climate and environmental changes in the Mediterranean was discussed by scientists and policy-makers, aiming to establish an effective science-policy interface with regards to climate change in the region. This side-event provided an opportunity for scientists and stakeholders to discuss the main vulnerabilities in the Mediterranean region, as well as its resilience to climate change.
The dialogue between scientists and decision-makers is facilitated by the Secretariat of the Union for the Mediterranean and the Mediterranean Action Plan of the United Nations Environment Programme, through its Plan Bleu Regional Activity Center, which support the MedECC network in the framework of their agreement.
Watch the talks
Download the booklet (EN, FR, AR)
Download the infographics

This event have gained a very extensive media coverage.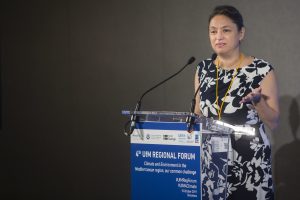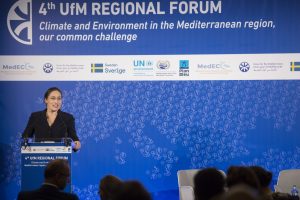 ---
AGENDA
09.00 – 09.15 | Introductory Notes
Nasser Kamel,Secretary General, Union for the Mediterranean
09.15 – 09.30 | Keynote Speeches
Abdalah Mokssit, Secretary, Intergovernmental Panel on Climate Change (TBC)
Ion Cimpeanu, Secretary of State for Environment, Romania
09.30 – 11.00 | Presentation of the Draft Mediterranean Assessment Report
Elen Lemaître-Curri, Plan Bleu (brief presentation MedECC network)
Prof. Dr Wolfgang Cramer, MedECC Coordinator, Germany
Prof. Dr Semia Cherif, Coordinating Lead Author for the MedECC, Tunisia
Q&A
Coffee-Break: 11h00 -11h30
11.30 – 12.15 | Development of some related programsand projects
Enhancement of Nationally Determined Contributions (NDCs) and National Adaptation Plans
EIB: Financing sustainable development and climate action
OSCE and UfMS: Climate and environment security project
Q&A
12.15 – 12.45 | Key-Messages by MedECC and Closing Remarks
Dr Wolfgang Cramer, MedECC Coordinator, Germany
Dr Semia Cherif,Coordinating Lead Author for the MedECC, Tunisia
UfM Co-Presidency and UfM Host-Country